Major Charles H. Wolf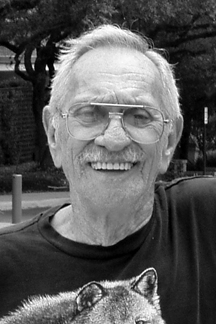 United States Air Force
Veteran of World War II & the Korean War


Memorial Services are set for Major Charles H. Wolf, USAF, Retired, on Tuesday, July 13, 2004 at 10:30 A.M. in the Chapel at Temple Beth-El, 211 Belknap Place, San Antonio, TX, 78212.
For further information you can call Rabbi Bergman-Vann or
Rabbi Barry Bloch at 210-733-9135.

Charles H. Wolf, Major, USAF, Retired, a decorated war hero died as a result of injuries in an automobile accident which occurred east of Rawlins, WY on Tuesday, July 6, 2004 at 7:30 A.M. He was 80.
Major Wolf served during WWII as an enlisted man and then as a fighter and bomber pilot. He later served as an officer in the Korean Conflict. He survived four tours of duty on three continents, also serving four combat tours under enemy fire. His decorations and accolades are too numerous to list. Those who served with him are aware of his bravery, heroism and love of country. He served all with honor and distinction.
His family and friends will miss him, his humor, compassion and love. He was truly an officer and a gentleman and will remain a legend. He also retired from Portland General Electric in Portland, OR as chief pilot and head of corporate flight division, which he pioneered.
Charles is survived by his wife, Blair Lyle Wolf, Lytle, TX;
two sons, Daniel H. Wolf, San Diego, CA, Malcolm Lyle, Mechanicsville, VA;
two daughters, Jana Leland, San Antonio, TX, GiGi Wolf, Desert Hot Springs, CA;
grandsons, Blair L. Wolf, Lytle, Ryan C. Wolf, Edwards AFB, CA, Brandon Wolf, Desert Hot Springs, CA, Matthew Lyle, Johnson City, TN;
granddaughters, Sarah Ann Wolf, Newberg, OR, Victoria Wolf, San Diego, CA, Julia Aby Lyle & Elizabeth Ann Lyle, Johnson City, TN;
Cousin Howard Glober, Simi Valley, CA
great-granddaughter, Raven Wolf Afterbuffalo.
He was preceded in death by his father, Alexander M. Wolf; stepmother, Mary Wolf; mother, Sarah Glober Mondshine; stepfather, Murray Mondshine and son, Charles Herbert Wolf, Jr.

Cremation has taken place. ROSTAD MORTUARY Rawlins, WY 82301
(307) 324-2611

A memorial of photos will be arranged and posted at a later date, please check the Bulletin Board page for details.
Blair Wolf - Grandson of Charles and Webmaster for the 319th